He hears the crunch of the dirt under his boots, tastes the crisp, dewy morning air, as he makes his way along the ridge. He is Dad. But on this morning, the kids and his wife are still sleeping at home and he is out here, staring stoically at the sunrise. He's also confident and well equipped, thanks to you. Not only did you give him some of these essential hiking items listed below, but you gave him the pass (and possibly the order!) to get out of the house and onto the trail. Everybody knows he'll come back better. But first, the gear:
Head
Tifosi Swank XL Sunglasses ($29.95-54.95, pictured below) feature an oversized frame for maximum protection (and extra flair). Dad's winter shades are probably all scratched up, so hook him up with a pair of Tifosi Swank XLs without going broke; color options include Blackout, Satin Vapor, Blue Tortoise, and a polarized Brown Fade. These lightweight frames have no-slip rubber nose pieces and lenses are 100% UVA / UVB protected and scratch-resistant.
BUFF ($20) with a Colorado flag design (or any other design, they have tons), full length, is a must. Serves as a hat, scarf, face covering, sweatband, and more. These stretchy, UV light-blocking neck and headwear items are popular with ultralight thru-hikers and glampers alike for their versatility and extremely low weight.
Top
Voormi Men's Acces NXT pullover ($229, pictured far below with CamelBak Rim Runner Daypack) is the ideal mid in Dad's layer arsenal. This is a solid, not-too-heavy pullover that efficiently keeps the heat in. It's made from four-way stretch woven wool and a water repellent finish, and has a chest pocket for quickly accessible items. They make it just long enough to snug past your hips, keeping out drafts; I wore this pullover on many a below-freezing sunrise hike this past winter and spring and it always did the job.
ActiveIce Spectrum Sun Hoodie ($79) is the latest ultraviolet-blocking/active-cooling longsleeve top from Outdoor Research and is especially useful on hot, sunny hikes. It is made from a soft, chafe-free, and ultra-lightweight polyester/spandex fabric that's airy, quick-drying, and stretchy, and has built in UPF 50+ rating against harmful sun rays. The three-panel hood allows you to cover your entire neck and much of your face, especially if you fit it out over a hat brim.
Bottom
Trail Sender Pant ($79, pictured above) from Mountain Hardwear is the lightest hiking pant I've come across. They are made of ultralight ripstop fabric and have an adjustable waistline with snap and a drawcord. There are deep pockets and they pack down into nothing. The Trail Sender is also available as shorts ($52).
Live Lite Adventure Shorts ($89) are lightweight, relaxed-fit cargo shorts, a version of which are part of every respectable Dad's uniform. This version from DU/ER has slanted pockets on the legs for chapstick or other accessories. The tencel/cotton blend paired with lycra and spandex keeps things dry and cool and makes for a nice loose fit.
Feet
Swiftwick Flite XT Trail Sock Two ($23.99) is one of several light- and mid-weight hiking and running socks from Swiftwick. Let's face it, if you're into traditional Father's Day gifts like socks, you might as well get him "the most technologically advanced sock ever developed for hiking and trail running." This sock has a natural Merino wool upper, "grip fibers" in the ball and heel, and "micro treads" that grip the bottom of the sock to the inside of your shoe. It also has "Hydrophobic Olefin fibers in the footbed" which, working with the Merino wool, pulls moisture away from your skin to keep your feet dry and free from blisters.
R3 Orthopedic Foot Roller  ($34.99) will be Dad's best friend when he gets back from that hike. This foot roller "targets specific areas of the foot to stretch the plantar fascia and intrinsic foot muscles to reduce soreness from tired feet," explains their website.  The non-symmetrical shape lets you choose to focus on the inner, middle and/or outer parts of the foot. 
Gear & Gadgets
LEKI Makalu Lite Trekking Poles ($140) are some pretty sweet sticks, weighing in at just 8.8 ounces per pole. These three-section telescoping poles with Aergon Air grips are made of 6.5 HTS Aluminum, packs down to 26", and is adjustable from 110-135 cm using a twist-based external locking system. I switched to poles a few seasons and back and love them for balance, contact with the ground, and catching myself on downhill slips.
Suunto 9 Baro Titanium Watch ($399.20) boasts 170 hours of GPS capacity, on-watch navigation, and ability to connect to a collection of partner apps (see here for full list). This watch has a "hiking" function that tracks distance, heart rate, elevation, position, steps, and more. The Suunto 9 has been one of my primary GPS devices as I track each of the trails I'm hiking for my next book.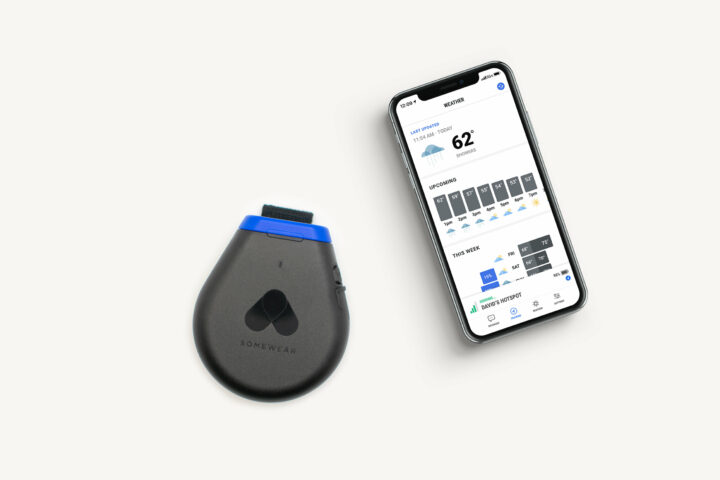 Somewear Global Hotspot ($279.99) pairs with iOS and Android devices to enable a satellite communication hotspot on Iridium, and has numerous off-grid communication services. This palm-sized 4oz device is smaller and lighter than most satellite hotspot devices out there and gives you two-way text messaging (SMS, email) via the Somewear App, weather reports, location sharing, and user tracking. The Somewear can also serve as a stand-alone emergency transmitter that can be activated without connection to a phone, allows two-way communication between emergency response and the user, and geo-tracking if victims are on-the-move or drifting in open water.
Helle Nipa EDC Knife ($199) is a medium sized gentleman's everyday carry (EDC) knife that folds up into the palm of your hand. It has a handcrafted curly birchwood handle and reversible carry clip so it can hide away in any back pocket. The 3.7-inch handle deploys a 2.71-inch steel blade with a true Scandinavian grind for making all kinds of cuts. (The Nipa was temporarily sold out at time of publication, but here are some other folding blades, any of which would make Dad happy).
Tentsile Suspended 2-Person Hammock Tent ($399) is not technically "hiking gear," but it's such a fun, big-ticket item, I couldn't resist including it. This above-ground treehouse tent weighs 10.4lbs (4.7kg) attaches to three equidistant trees with ratchet straps, creating a firm floor for sleeping. It has a bug-netting roof for insect-free stargazing and a rain fly that pops on for shelter and privacy. The only catch is that you need those properly placed anchors; maybe that's not a problem in a thick forest, but it could be tricky in other terrain (or in National Parks and Forests that do not allow you to attach anything to trees); they sell a ground conversion kit to pitch this anywhere.
Rim Runner 22 Hydration Pack ($100) is a minimalist 22-liter daypack with a 2.5L bladder, an intelligent selection of pockets, including on the waist belt. It's a soft-back pack, partially made with post-consumer recycled materials. I've found the Rim Runner quite comfortable and big enough to fit my midweight jacket/shell, which is essential for the massive temperature swings that happen in the mountains.
Stainless Steel Whiskey Sipping Tumblers ($39) from High Camp Flasks is a stylish set of two 3 fl.oz (88ml) cups, each weighing 2.9oz and made of double wall insulated 100% stainless steel. The cups have 6-shooter grooves for a No-Slip-Grip, are BPA and phthalate free, and come in a cushioned wool felt carrying case that looks like a prop from Lord of the Rings. At the time of this writing, High Camp Flasks is running a 20%-off Father's Day sale, so get on that. Want something to put in those cups? Spirit Hound Distillers, based in our own backyard in Lyons, CO, recently took home the "Whiskey of the Year" gold medal at the international London Spirits Competition for its Straight Malt Whisky ($53.99), receiving the highest quality rating of any US-based spirit in the competition (Dad can tell a buddy all about it as he pours those summit shots).
---
Many of these photos were taken by Noah J. Katz; find him here: https://njkphotography.com
Note: The writer received product samples from some of the companies above for review and photography purposes; he was not paid anything by any company for inclusion in this article.